Paella is, without any doubt, one of the most famous gastronomic dishes in Spain. It is known all over the world and has a special attraction that encourages tourists to try it. This dish has managed to spread beyond its borders and can easily be found anywhere in the world, and the Costa Dorada, Costa Brava or Barcelona are no exceptions. There are many interpretations, and all of them correct, of how paella should be cooked and what ingredients it combines, as it can vary from seafood to fish or from meat to vegetables, or even with a combination of all of them. Regardless of its preparation and composition, paella is perfect. It manages to conquer even the most exquisite palates and defines the perfection of Spanish gastronomy along with tortilla de patatas (Spanish omelette) and jamón ibérico (Iberian ham). Is your mouth watering yet? Ours is! 
Don't wait any longer and come and taste paella in Costa Dorada, Costa Brava and Barcelona with Shuttle2Sun. We offer shared transfer services and private transfer services to Barcelona, Tarragona, Reus, Salou, Cambrils and many other locations. Without further ado, we will tell you how a paella is cooked and its origins.  
Origin 
Paella was created in the most rural areas of Valencia between the 15th and 16th centuries. It arose from the need of the peasants of the time to cook something quick and easy with the ingredients they had at hand. The first recipes for this dish used rice, saffron and olive oil, ingredients that the shepherds always had on hand. Then, water was mixed in and it was simmered with wood from orange branches, giving it a very characteristic taste and smell.  
To explain its origin there is a story dating back to the War of Independence in Spain that tells how paella became so popular. A French general, during the conflict, had Spanish soldiers imprisoned and promised to free one of them for every plate of rice offered to him. So, a cooker put her imagination and improvisation to work and prepared a different paella dish for him every day. The story goes that she managed to free 176 Spanish prisoners, giving rise to the different types and ways of cooking paella.  
And where does the word "paella" come from? There are also several stories behind it. One of them tells how a man wanted to win his girlfriend's affection and succeeded in doing so by cooking this dish. The word "paella" may come from the phrase "por ella" or "para ella" (for her). Another origin could be that "paella" is a word that comes from Arabic, as it was brought to Spain in the 8th century by the moors, inhabitants of North Africa.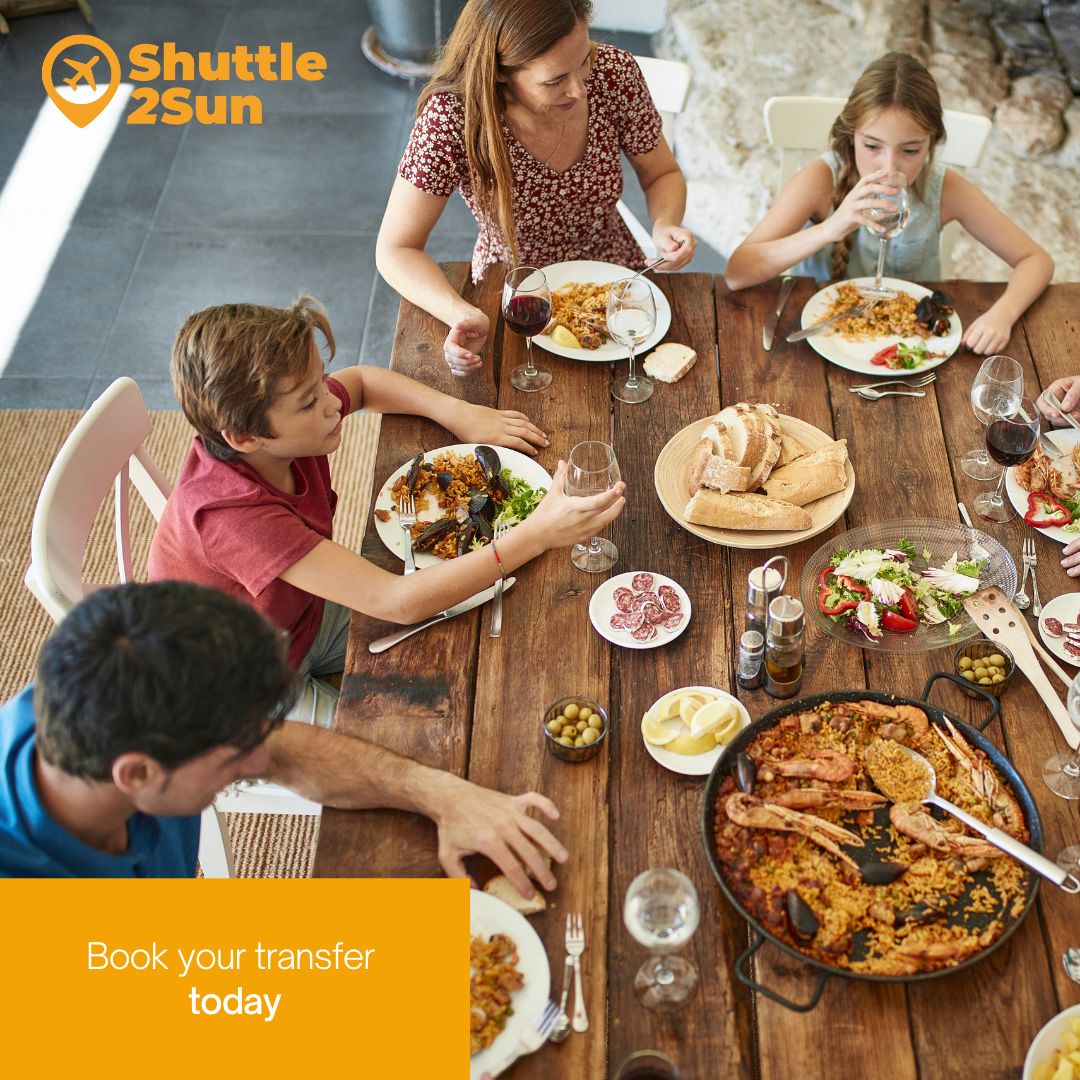 The truth is that the origin of the French soldier is the most widespread, although the couple story is the most romantic. It should also be noted that the word "paellera" does not refer to the frying pan used to cook the rice, but rather to the person who cooks it.  
So popular was this dish that it spread throughout the rest of Spain and, above all, to a large part of Catalonia. It is very typical to eat paella in the coastal towns such as Barcelona and Tarragona, and the whole of the Costa Dorada and Costa Brava.  
Recipe 
This famous dish is known for its deliciousness, but also for the conflict that it entails when it comes to defining what ingredients it should contain. There is no way that Catalans and Valencians can agree on a single recipe. The truth is that it is one of those dishes that accepts any ingredient and there is never one paella like the other.  
The peasants of the time used the snails that could be found around their land, while Valencian paella can include rabbit, duck, chicken, meat, tomatoes, beans, peppers, courgettes and onions. Saffron was later used to add extra flavour and aroma. On the other hand, there is also paella marinera, which consists of fish and seafood. There are also mixed, dry and broth paella dishes… In the end, paella is cooked however you like, although you will surely have heard someone say that their mother's or grandmother's paella is the best.  
Best places to eat paella 
There are many places where you can eat a good paella, and you can eat it in almost any city. Tarragona, Cambrils, Reus, Torredembarra, Salou or La Pineda are some of the many examples that can be found on the Costa Dorada, not to mention Barcelona or the Costa Brava. If we were to write a complete guide to all the restaurants in these locations, we would need a whole other article. So, for the time being, here are a few brief recommendations.  
El Pòsit  
Located in the Serrallo district of Tarragona and opposite the city's port, El Pòsit has been known for its speciality rice dishes and seafood since 2005, although they also offer a wide range of fish dishes, tapas and portions. They are also present in Cambrils.  
El Marítim  
This restaurant is located inside the Club Marítim in Torredembarra, right on the beach and overlooking the sea. Here, you can taste and sample delicious Mediterranean cuisine in an establishment marked by its rustic, seafaring style, which conveys a pleasant, warm atmosphere.  
Che del Mar  
The Che del Mar restaurant is located in La Pineda. It is a family-run establishment serving Mediterranean cuisine using local produce. The restaurant is open during most of the mid and high season, and has a terrace facing the sea and unique views of La Pineda beach.  
Maná 75  
This restaurant does not go unnoticed, which is why Maná 75 is a colourful, warm, welcoming, cheerful and informal establishment. Located in Barcelona, it has large round tables where you can enjoy its elaborate rice dishes that are cooked in full view of the customer. It also has a terrace where you can disconnect and relax.  
Montserrat  
This is a family restaurant located in Estartit, Costa Brava. The Montserrat restaurant, located in front of the Yacht Club, offers an extensive menu of Mediterranean and international cuisine in an elegant, safe and comfortable setting.  
So, the Costa Dorada, the Costa Brava and Barcelona and its surroundings are great places where you can enjoy a paella with family or friends next to the beach and overlooking the sea. Don't forget that Shuttle2Sun offers shared transfer services and private transfer services to all these locations from Barcelona airport, Barcelona port, Reus airport, Girona airport or from the AVE Camp de Tarragona train station.