One of the great European cities that you must visit at some point in your life is Barcelona. Bathed by the Mediterranean Sea, the Catalan capital is characterised by its great architectural richness, its own personality that makes it unique in the world and its great cultural diversity, which means that people from all over the world converge in the same place. This means that, even if you've only been in the city for a day, you'll feel at home and be drawn to its most charming neighbourhoods.   
Here are a few tips to make your trip to Barcelona a perfect experience and make sure you enjoy it as much as ever. Also, we inform you about the private transfer services and shared transfer services, low-cost and sustainable, offered by Shuttle2Sun, so you can move, in a comfortable and agile way, to Barcelona, from Barcelona airport, Barcelona port, Girona airport and Camp de Tarragona AVE train station.
The most important thing: plan your trip
You should bear in mind that Barcelona is a huge city, with an infinite number of things to see and do, so you should plan your trip so that you don't miss anything important.
If your stay in Barcelona is short, we suggest that you choose the must-see places that most appeal to you, depending on your tastes and hobbies.
You can see the most important sights in the capital in just a few days, so don't worry, in this article we'll give you the best tips, so you don't miss anything.   
On the other hand, if your stay is longer, we suggest you get lost in the streets and discover the most charming places in the city, many of them unknown and away from the tourist hustle and bustle.   
You should also know that you can get to all the places on foot. In this way, you can stroll through the main streets, making the tour also part of the experience of the visit.
Even so, if you prefer, you can get around the city using the many means of public transport, as Barcelona has a very complete urban network of buses, trams and metro, which will help you get to the different parts of the city quickly.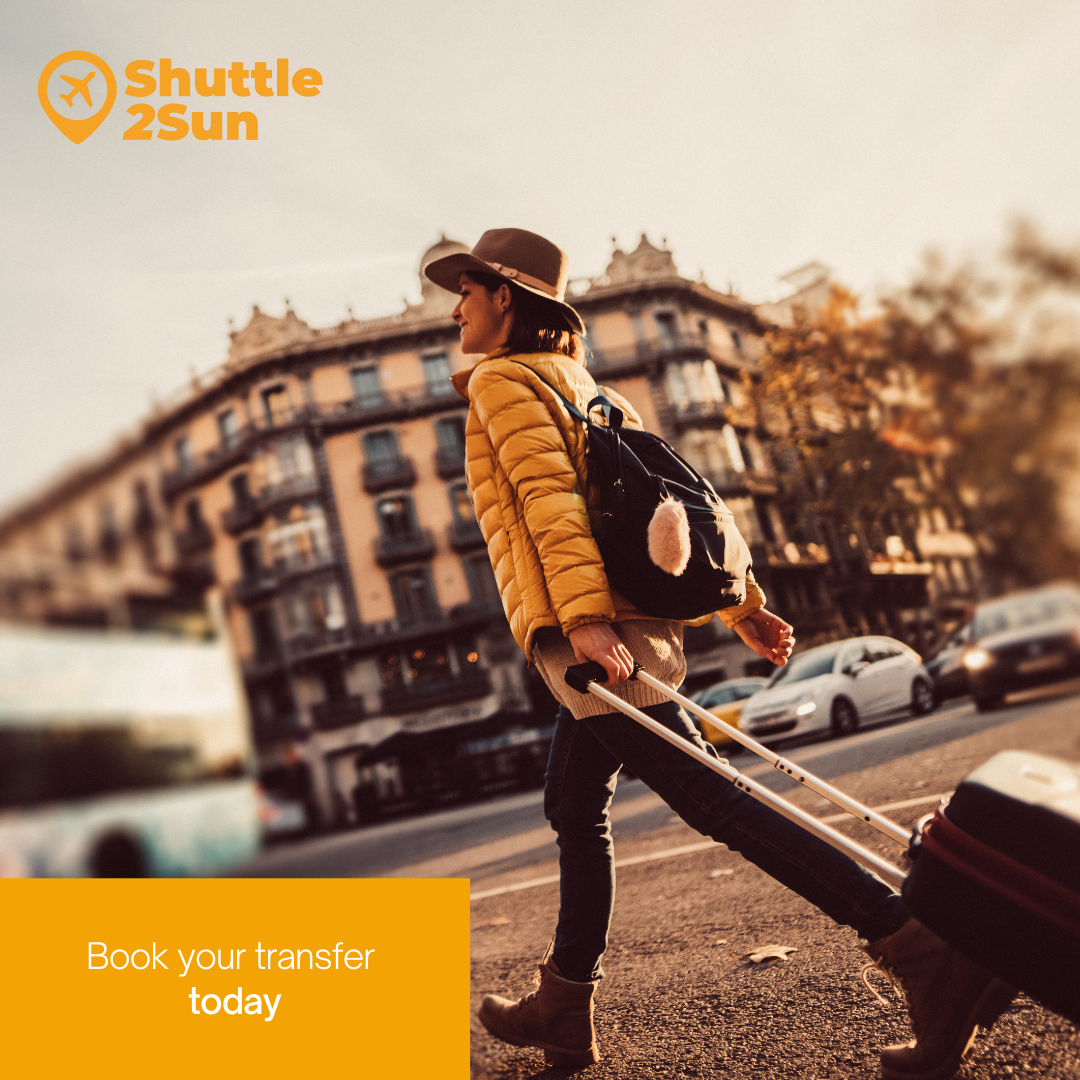 How to get to Barcelona from the airport  
Another of the tips we give you in this article is how to get to Barcelona from the airport, in most cases Barcelona-El Prat Airport. To make your transfer comfortable and worry-free, we suggest you book your transfer in advance, so that you won't have any surprises once you arrive at the airport, loaded down with luggage and not knowing where to go.   
First, you need to know which terminal you are arriving at. Yes, Barcelona airport has two different terminals. Both have all the services you need to make your short stay at the airport a pleasant one. 
Once you know which terminal you are landing at, we recommend that you hire a direct transfer from the airport to your hotel, so that you don't have to make unnecessary transfers. In both terminals, you have Shuttle2Sun's services at your disposal, which offer you a fast, comfortable and effective transfer, as well as low-cost and sustainable.  
You can choose Shuttle2Sun's shared transfer services, which offer bus transport at the most competitive price on the market and with the possibility of making different stops. Or the private transfer services, with individual door-to-door transfer, 100% adapted to your needs and exclusive for you and your family or friends.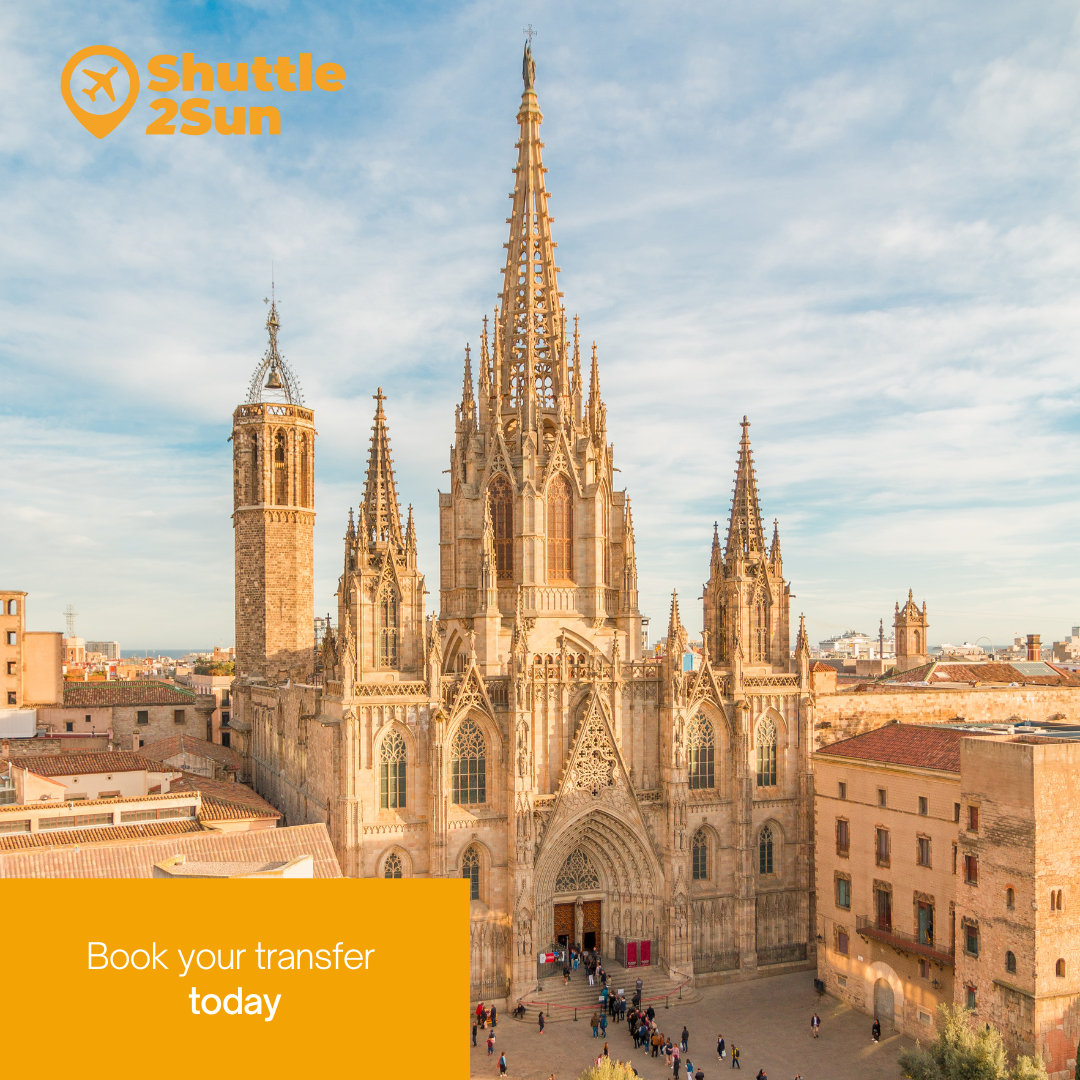 Indispensable places to visit  
You probably already know that the city's great icon is the Sagrada Familia, designed by the architect Antoni Gaudí, the leading exponent of Catalan Modernisme.
This basilica is the masterpiece of this great artist, whose construction is still underway, after 141 years, and which stands out for its incredible ornamentation, its stained-glass windows and towers to the sky, and its majestic porticoes.  
Other must-see works by Gaudí in Barcelona include Casa Batlló, Park Güell and La Pedrera, among others. You can find out more about this architect's mark on Barcelona's architecture in our article "Antoni Gaudí: All the works you can visit in Barcelona".  
Another emblematic site is Barcelona Cathedral, in Catalan Gothic style, with three naves and a single apse, which houses great Gothic works of art inside, such as altarpieces by Guerau Gener, Lluís Borrassà, Gabriel Alemany and Bernat Martorell, among others, and paintings by Pere Destorrents, Jaume Huguet and Bartolomé Bermejo, which are housed in the Cathedral Museum.
Consult the visiting hours to see the temple; if you prefer, you can buy your ticket in advance.  
One of the city's main thoroughfares along which you can stroll is Paseo de Gracia, where you'll find the best luxury boutiques and fashion brands, restaurants and museums. As well as Las Ramblas, which connect Plaça Catalunya with the Columbus Monument, in front of Barcelona's old port. Along the way, you can also visit the Mercat de la Boqueria, another must-see on your trip.   
Also not to be missed are the Hospital de la Santa Creu i Sant Pau; the Bunkers del Carmel; Montjuïc mountain and the National Art Museum of Catalonia (MNAC); the Arc de Triomf; among many other places.   
Where to stay  
To make your trip more comfortable, we recommend some accommodation: Catalonia Sagrada Familia hotel, just a few steps from Plaça de les Glòries Catalanes; Hotel Barcelona Universal, located on Avinguda del Paral·lel, near the Barcelona port; and the 4-star Hotel Porta Fira, located in L'Hospitalet de Llobregat.  
Remember that you can travel to Barcelona, thanks to the private transfer services and shared transfer services, low-cost and sustainable, offered by Shuttle2Sun, from Barcelona Airport, Barcelona Port, Girona Airport and the Camp de Tarragona AVE train station.