The scariest night of the year is here. Tomorrow, Tuesday 31st of October, the international celebration of All Saints' Eve, known as Halloween, one of the most universal festivities, filling the streets and houses with pumpkins, skeletons and ghosts, arrives in every corner of the world.   
Although the original celebration in Catalonia was the Castanyada, Halloween is becoming more and more deeply rooted in popular culture, thus coexisting with Catalan tradition. In this sense, Costa Dorada joins, another year, to the celebration of this night of terror, with a wide range of magnificent proposals for both young and old, from passages of terror, themed spaces, parties, catering and entertainment, to make you live a day of the most terrifying.   
If you don't want to miss any of the options presented in this article, we suggest you spend Halloween, and the next few days, on Costa Dorada, to make the most of the holiday. Shuttle2Sun offers its private transfer services, low-cost and sustainable, to get to towns like Salou, Vila-seca La Pineda, Cambrils or Tarragona, from Barcelona Airport, Barcelona Port and Camp de Tarragona AVE train station.    
Halloween at PortAventura World
One of the great terrifying jewels of Costa Dorada is the PortAventura Park, located between the towns of Salou and Vila-seca, which this year has been transformed once again to give you the most terrifying experience, with its star attractions, such as La Isla Maldita, REC® Experience and Apocalipsis Maya; and great shows that revolve around this festivity, such as Halloween Parade, a parade of all the park's characters; Horror en el Lago and Día de Muertos, among many others.   
During the day, you will also be able to meet the pirates, zombies and madmen, among others, who roam the different areas of the park and will not hesitate to scare you. PortAventura Park also offers children's activities so that the youngest members of the family can enjoy Halloween in an adapted way.
This period in PortAventura is available until the 12th of November. If you want to know more about this option, you can read our post "How to get to PortAventura on Halloween from Barcelona Airport".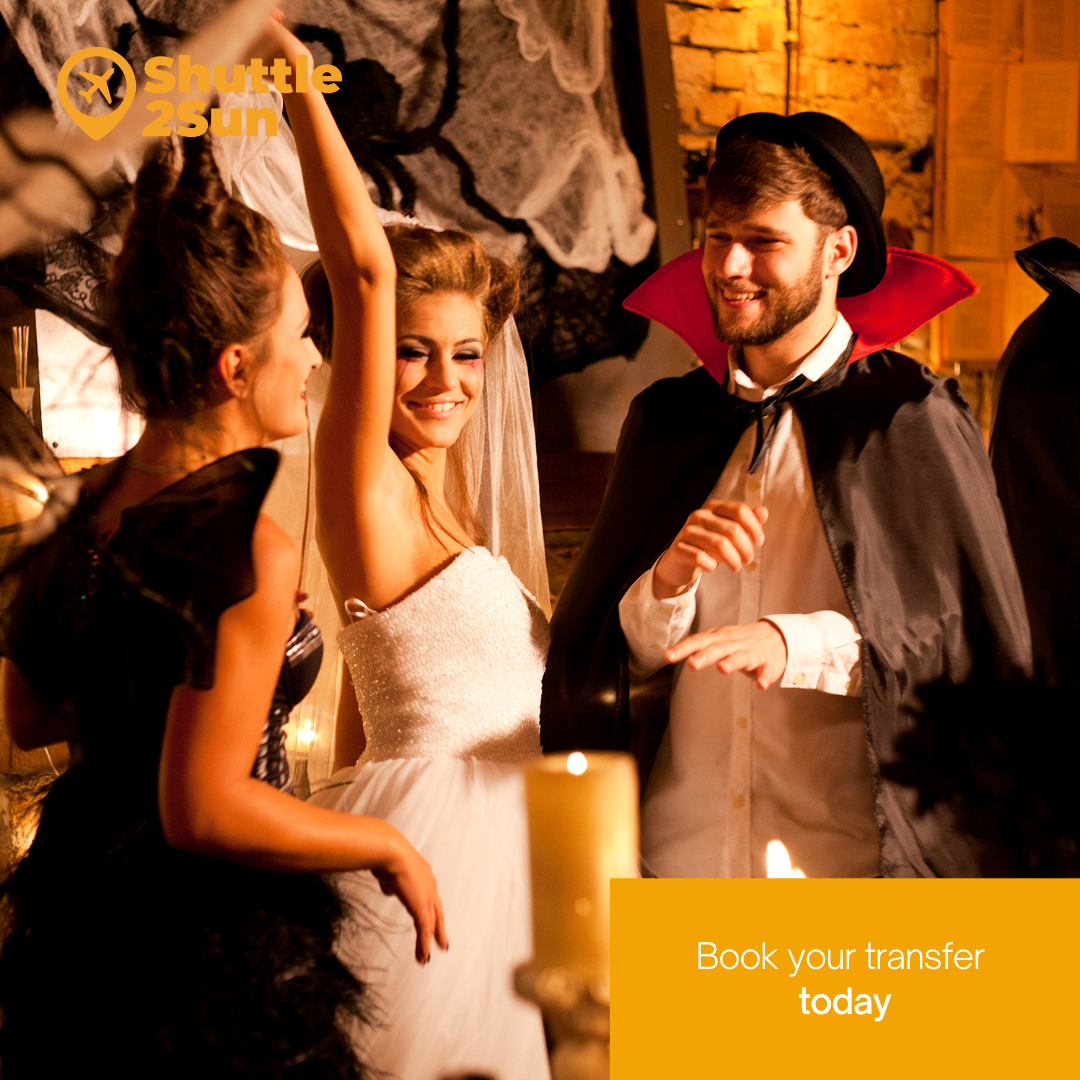 Activities for all ages at Parc Samà, in Cambrils
Parc Samà in Cambrils is dressing up for Halloween, once again, until Sunday, 5th of November, with a more child-friendly proposal than in previous years, so that families can enjoy this option.   
There are different spaces distributed around the park where you can interact with the decorations, such as La Bodega de los Espíritus, where you can take pictures with the souls that have been locked up in this museum cellar; La Cueva de la Gran Araña, located in the Taxodium cave; and also La Cueva de los Insectos, where some large bugs are hidden, protected by two gargoyles. These elements are available throughout the week.  
On the other hand, this weekend there will be special activities, from 12 to 14 p.m. and from 16 to 18 p.m., so that you can enjoy everything that Parc Samà has prepared for you. El Invernadero de las Mandrágoras, a special activity for families with children, which will allow you to help the explorers find the mandrakes hidden in the greenhouse.   
And also, Las Caballerizas de Deimo, which have been occupied by ancestral beings, and where you can take part in a ritual through a journey of fire, scares, dance and projections. 
Enjoy this year of the multiple proposals that we present you for Halloween. Remember that with Shuttle2Sun and its private transfer services you can reach the towns of Costa Dorada, from Barcelona Airport, Barcelona port and Camp de Tarragona AVE train station.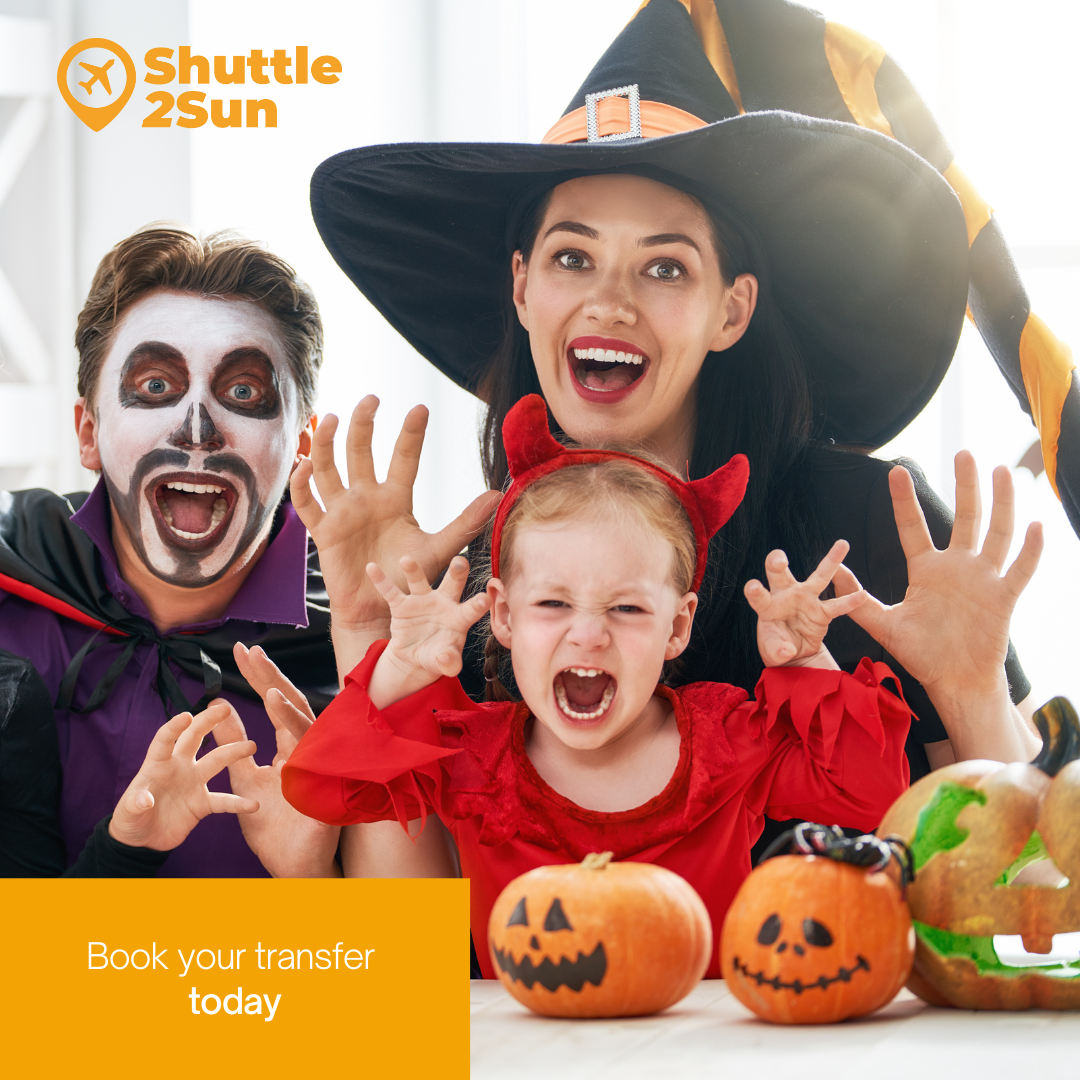 Salouween Street and much more, in Salou  
Another of the great proposals of Costa Dorada for this Halloween is the great event Salouween Street, which is held, for the second consecutive year, on Paseo Jaume I in Salou and which hosts a wide variety of catering establishments, music and entertainment, until tomorrow Tuesday, 31st of October. This is the second year it has been held, as last year's edition was a great success.   
If you want to experience this festival to the fullest, you can't miss the passage of terror organised by Salou at the Masia Catalana, a 5,260 square metre estate located on Avinguda de Carles Buïgas. The route will feature sinister characters that will give you the most terrifying experience. This initiative runs until tomorrow, 31st of October.   
Tomorrow afternoon, Tuesday, you can also enjoy the Salouween Parade, a parade with monsters and zombies that will be parading through the streets of Salou. There is only one requirement to take part: dress up as your favourite horror character and take part in the most terrifying and funniest parade of this Halloween.  
If you're visiting Salou with the little ones, remember that, this afternoon, there will be a Halloween make-up marathon, enlivened by the music of the well-known DJ MoM.   
Halloween party in Torredembarra  
Tomorrow, 31st of October, Torredembarra is also offering a Halloween party with music and dancing in Plaça del Castell. In the afternoon and evening, there will be dance exhibitions, an open dance class, a gymkhana of terror for the more daring, as well as a rumba concert, with the group Massamadre and the music of Dj Ferry Lip.
Experience Halloween on Costa Dorada! Shuttle2Sun puts at your disposal its private transfer services, low-costand sustainable, to get to places like Salou, La Pineda, Cambrils or Tarragona, from Barcelona Airport, Barcelona port and Camp de Tarragona AVE train station.